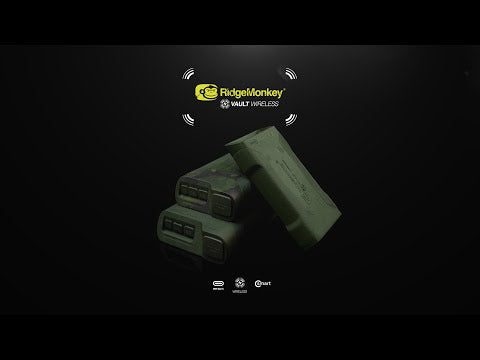 RidgeMonkey Vault C-Smart Wireless 26950mAh
---
Banish the cables with Qi compatible wireless technology: simply set down your Qi enabled device on the Vault C-Smart Wireless pad, press the power button and watch the magic happen – up to 10W of wireless power delivered straight to your device. Combine this with ultra-intelligent superfast USB-C Power Delivery, dual 2.4A USB-A ports and a 12V DC output to provide a truly remarkable piece of technology. Cabin hand luggage friendly 99.9Wh capacity is enough to keep most individuals powered for a long weekend away from a single 12-hour charge using the included 12W USB Mains Adaptor.
PRODUCT FEATURES
Premium grade lithium polymer battery
Dimensions: 182mm x 103mm x 30mm
Weight (excluding accessories): 650g
Capacity: 26950mAh / 9Ah / 99.9Wh
1x Qi compatible wireless pad: 10W max
1x C-Smart USB-C Power Delivery: 45W max
1x 12v DC with cigarette lighter socket adaptor: 60W max
2x USB-A: DC 5V 2.4A (max), 3.2A total
Cabin hand luggage friendly 99.9Wh capacity
Durable outer construction
Protected registered design
Available all new Camo
APPROXIMATE CHARGE CAPACITY:
Extra-large high-end 'plus' smartphone EG Galaxy S10+, iPhone 11 Pro Max, Hauwei P30 approx charges: 4-5
Large high-end smartphone EG Galaxy S10, iPhone 11 Pro, Hauwei P20 approx charges: 5-6
Medium sized mid-range smartphone EG Galaxy S10e, iPhone 11, Hauwei P10 approx charges: 6-7
Mid-range older device EG Galaxy A3, iPhone 8 approx charges: 10-12
This product has no reviews yet.